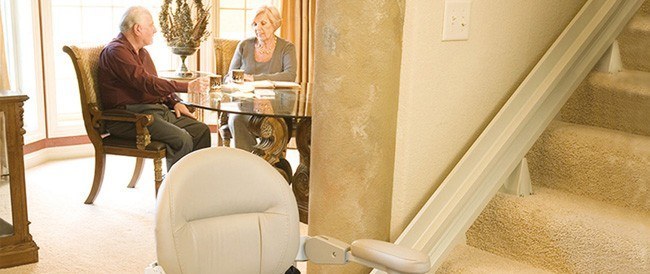 Our Stairlifts
Overview
Our stairlifts – custom made for you
The straight stairlift
The straight stairlift travels in straight lines and so is suitable if there are no turns on your staircase. All our starilifts provide a comfortable ride and have a smooth start stop action, which allows you to glide up and down the stairs effortlessly. They are also attractively designed and, when not in use, can be folded up to save space and leave the staircase clear for other users. Click on this link for A Detailed Guide to Straight Stairlifts
The curved stairlift
The curved stairlift can travel around corners and so is suitable for a turned or even spiral staircase. It travels around bends on the stairs on a curved rail system and can be made to run onto the landing. A curved track can be fitted on either side of the stairs; the layout of your staircase will determine which is most suitable. Click on this link for A Detailed Guide to Curved Stairlifts
The perch stairlift
The perch stairlift has the same comfort and safety features as the straight and curved stairlifts, but is designed for those who have restricted movement in the knee or hip and find sitting painful. The perch stairlift has a shortened seat and stable support to "perch" on, so you are in a more comfortable semi-standing position. A perch seat may also be the solution for very narrow staircases.
The outside stairlift
Three of our models are available to provide a solution to your outdoor needs. Your surveyor will advise you of the solution appropriate for any outside needs you may have.
Spiral and Tight staircases
We have lifts that fit the narrowest spaces – no one offers lifts able to fit in tighter spaces. We also have lifts capable of carrying up to 30 stone in weight.
Refurbished Lifts
In many cases refurbished lifts offer the best value and most appropriate solution. Refurbished lifts are tested rigorously and come with the same quality assurance as new lifts. In addition to this they are backed up by a full twelve month warranty extendable to five years. We can supply refurbished Stannah stairlifts which were originally manufactured by Stannah and refurbished by us or our partners.
Features
Features of a StayHome Stairlift
Comfortable seat design
Gives you a pleasant ride.
Fully adjustable
Can be set up to your exact needs
Compact and slimline fold-away design
Keeps your hallway tidy and allows other members of the family to use the stairs as normal
Remote control to call or send the stairlift to the top or bottom of the stairs
Ideal when more than one person in the house uses the stairlift
Smooth start/stop action
Ensures you don't encounter any sudden jolts.
Quiet and effortless motion
Designed to give the best travel experience possible. We don't use noisy and messy cable-hauled or chain lifts.
Easy to use controls
Ergonomically designed for ease of use, even for arthritis suffers or those who are visually impaired.
No unsightly structural work needed
Fits directly to your stair rather than the wall.
No messy wiring
Or visible cables.
Swivel seat
Allows you to get on and off the stairlift easily and safely.
Safety sensors
Automatically cuts out if anything is in the way & the stairlift comes to a smooth halt.
Electronic and mechanical brakes
An extra safety feature.
Motor battery back-up
The stairlift will continue to run for a number of trips, even with a power of cut.
Lockable on/off switch
Allows you to prevent children accidentally starting the stairlift.
Aftercare
We believe that exceptional customer service is as important as the product itself because it gives you complete piece of mind
Priority 24 hour call-out, 365 days a year
Once you've purchased your StayHome stairlift, you can rest assured that we're here to help, whenever you need us. In the unlikely event that you do encounter any problems, our 24 hour priority call-out service is on hand 365 days a year; one call from you and we'll send round one of our local specialist stairlift engineers who'll have your stairlift back up and running as quickly as possible.
FREE 12-month warranty and service
Our stairlifts are extremely reliable and are manufactured to the world's highest standards to give life-long service. We include a free comprehensive 12-month warranty with every StayHome stairlift.
Ongoing peace-of-mind warranty plans
After that, we have a range of StayHome Protect warranty plans available to give you up to an additional 4 years' cover. Your surveyor will give you all the information you need about our Warranty Plans, and you don't have to worry about when to renew as we'll give you a friendly reminder call before your plan is due to expire.
The StayHome Promise to You
Be open seven days a week 9am – 9pm
Give you simple, open and honest advice
Not pester you with unwanted calls
Recommend the best stairlift for your needs
Give prices over the telephone so you know what to expect without a survey
Behave in a professional, caring and respectful manner
Make appointments at your convenience
Never put you under pressure to buy
Install your stairlift without mess or disruption
Provide a clear quotation