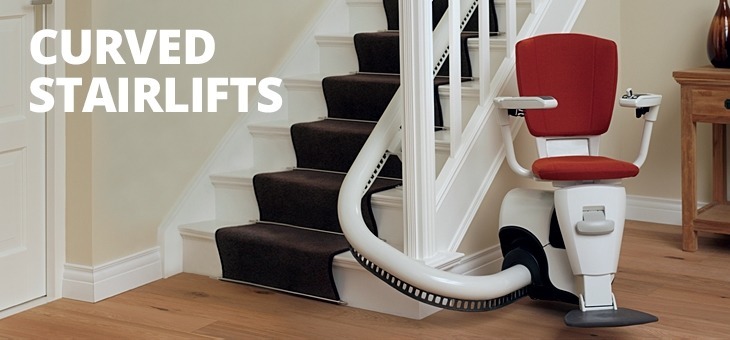 A Guide to Curved Stairlifts
Chairlifts are useful pieces of equipment that improve the quality of life for many people. They are installed in houses with more than one storey to allow those who have difficulty in climbing stairs to access upper floors. Users travel in a mechanical lift which moves them up and down on rails that are fitted at the side of the stairs. This is usually done while sitting down, but those who have difficulties with that position, due to pain or immobility in the hips or knees, can use a perch seat to travel in a semi-standing position. A perch seat is also a good option on extremely narrow staircases as it takes up less horizontal space. A standard stairlift runs on a straight track, but in houses with several flights of stairs, or with irregularly shaped staircases, a curved stairlift is required.
What is a curved stairlift?
A curved stairlift can travel around corners and so is suitable for a turned, or even spiral, staircase. Using a curved rail system, the stairlift can travel around bends on the stairs and can be made to run onto a landing, making it ideal in houses that have several storeys. A curved track can be fitted on either side of the stairs; the layout of the staircase will determine which side is the most suitable, although most run on rails on the wall side of the stairs. Seats often have folding arms and footrests to take up less room when not in use. Tracks can made to suit any stair layout, including quarter landing, fan, half landing and spiral, and can take users securely and safely up many flights of stairs, if required, with no pause between flights.
How does a curved stairlift work?
Due to variations in shape and size, curved staircases need to made in a factory before installation and require customisation to ensure a perfect fit. They can be designed to run on the most complex of staircases. The speed at which a stairlift travels is governed by British Safety Standards, which rules that they need to move no faster than a gentle, walking pace and have a smooth start and stop mechanism. Safety is a paramount consideration, and there will be automatic cut-out mechanisms to ensure that the lift will not operate unless the user is securely strapped in, and there are no obstacles in the way. The lift can be controlled by the user, and summoned to the top or bottom of the rails, using a remote control handset. While straight stairlifts are usually mains-powered, most curved stairlifts are battery-powered. This is to avoid problems that might arise from a power outage during use, and charge points are incorporated into the rails at the top or bottom. A curved stairlift will include a self-levelling mechanism, to balance the chair as it travels around any turns or twists and slow it down to reduce wear and tear.
Costs of curved stairlifts
The costs of customisation and fitting make curved staircases more expensive than straight ones. More technical work is required, and the more curves in the staircase, the more costly it will be. Labour costs will also be higher, as it usually takes half a day or more to fit, rather than the two or three hours needed to fit a straight stairlift. If a house has an in-line or flat-bend intermediate landing, it may be more cost-effective and simple to install two straight stairlifts rather than a curved one, but the user would need to be able to get from one lift to the other, which is not always possible. A curved stairlift makes ascending several floors seamless and easy. People sometimes try to save money by installing a straight stairlift on part of a curved staircase if there are only one or two steps left at the top of bottom, but they need to consider whether they will always be able to cope with even a few steps; covering an entire staircase using a curved track is a safer option.
Installation of curved stairlifts
A survey will need to be done of each individual staircase, before the track is manufactured to order. A complicated specification can take several weeks to produce. The surveyor will not only measure the dimensions of a house and its staircases, but will assess the ease with which a user can get on and off the stairlift. It is also a good idea to get the advice of an Occupational Therapist before choosing a stairlift, as they can give guidance on the best and most comfortable style of seating to choose for individual needs. Most standard stairlifts will carry a user of up to 120kg, but heavy-duty stairlifts can be made for those who are heavier. If there are obstacles near the staircase, such as radiators, banister rails, doors and thresholds, a hinged track can be installed. This allows the track to be folded away when not in use to give clear access. The hinging mechanism can be manually raised and lowered, or an automatic powered hinge can be operated using a button on the remote control. A curved stairlift can also be installed to run for some way onto the landing, rather than stopping at the top of the stairs. Modern stairlifts are designed to be unobtrusive, and fit close to the wall with slim rails, to give independence without making major structural changes to a house.
Maintenance of curved stairlifts
Once installed, all stairlifts, whether straight or curved, need regular maintenance to ensure they are in good working order. Servicing should be carried out at least every twelve months by a fully qualified engineer. Many companies give warranty cover which includes free annual servicing, and also offer a 24-hour emergency call out service. Buyers should ensure that they purchase from a company that guarantees a quick response time. Many modern stairlifts include digital displays that will warn of any potential problems
The StayHome Promise to You
Be open seven days a week 9am – 9pm
Give you simple, open and honest advice
Not pester you with unwanted calls
Recommend the best stairlift for your needs
Give prices over the telephone so you know what to expect without a survey
Behave in a professional, caring and respectful manner
Make appointments at your convenience
Never put you under pressure to buy
Install your stairlift without mess or disruption
Provide a clear quotation