The Outside Stairlift
Some of our stairlift models are available to provide a solution to your outdoor needs, however, you must use a surveyor who will be able to advise you on the appropriate lift for outdoor use.
A Guide to Outside Stairlifts
If you are dealing with mobility problems, you are likely to be facing challenges outside as well as inside the home. Stairlifts give you the freedom to be able to easily navigate interior stairs, but you can also use this solution for outside your property as well.
The inability to easily get from your front door to your front gate can be a major headache. It can make going shopping or visiting friends too much of an ordeal, and you may begin to feel isolated in your home. Luckily, there is the technology to allow you to come and go as you please.
How Do Outside Stairlifts Differ from Ones Used Indoors
The fact that a stairlift is going to be used outside means that it needs to be able to handle all types of weather condition. It needs to be able to serve you all-year round, and this is why it has to be designed specifically for outdoor use. This means that it needs to be made using the right material and vulnerable components are going to need to be carefully sealed so that the unit is capable of remaining undamaged from rain, sleet, or snow.
Some versions also benefit from a heater as this is needed to keep the engine warm enough to function when the temperature plummets.
The outside stairlift also needs to be designed in such a way that the user can still enjoy the same level of comfort as would be expected with an indoor model. This type of machinery also needs to extra-hardy, so it can withstand a lot of abuse.
One of the other ways that an outside stairlift can differ from an indoor model is that it usually comes with a waterproof cover to protect the armrest and seat.
Outdoor stairlifts are able to handle a wide-range of obstacles outside the home such as:
• Steps
• Staircases (e.g. you may have an outside staircase leading to your basement)
• Stairs on the exterior of the property
• Slopes
• Ramps
• Veranda access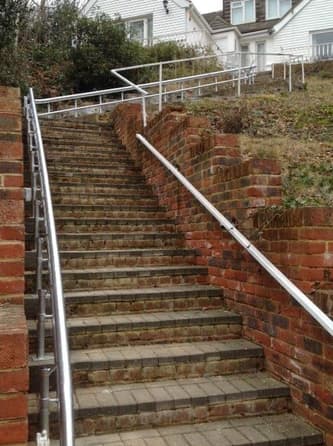 How Do Outside Stairlifts Work
The purpose of the outside stairlift is to allow for easier access to properties that have stairs or steep slopes – it is sort of like an escalator, but it is only built to accommodate one person at a time.
The person sits comfortable on a motorised seat, and this them moves along a rail to the final destination.
When the chair is not being used, it can usually be folded up so it doesn't get in the way. Just like the indoor version, there are models available for straight or curved steps, so this really can be the perfect solution for almost any home.
The unit is also going to benefit from technology to ensure that your safety is always maintained.
How are Outside Stairlifts Installed
The process of having an outside stairlift installed at a private residence is unlikely to involve much in the way of inconvenience. This job does need to be done by a trained engineer, but the installation is usually complete in two to three hours. There is unlikely going to be any need for structural modifications to your steps or stairs – this type of unit can usually just fit in with whatever is already there.
If you feel that your property is going to involve unique challenges, you can speak to the engineer beforehand, but usually there isn't much of an issue with the installation.
Things to Consider When Purchasing Outside Stairlifts
You can expect to pay a little bit more for outside stairlifts than you would for the type you use inside your home. This is because this unit is much sturdier and it has to include additional features in order for it to withstand weather extremes. It is not going to be a huge difference in price, and if it is going to increase your freedom to get around, it is probably a worthwhile investment.
One of the most important considerations when purchasing this type of product is that you are dealing with a company that takes your needs seriously – this means a commitment to quality and service. It is also important that the seller is only deals with engineers qualified with this type of installation. If unqualified people are given the task of this type of installing a stairlift, it can not only damage the unit, but it could also put your safety at risk. This is never going to happen with a high-quality company.
There are different models of outside stairlift to choose from, and it is worth investigating at least a couple of options. The basic operation of the different brands are more or less the same, but there can be differences in seat comfort and many have additional features such as remote control.
How to Keep Your Outside Stairlift Powered
In order for your stairlift to be able to function, it needs to have a power source. This is achieved by charging an internal battery using the electricity from your home – it is usual for there to be charge points on the rail. The fact that the lift is has a battery means that you don't have to worry about being left outdoors should there be a sudden power outage. It's a convenient system, and it shouldn't make too much of an impact on your electricity bills. The batteries used in this type of unit usually last for several years.
Outside Stairlift Maintenance
They do say that prevention is better than cure and regular maintenance of your stairlift is going to extend the trouble-free use you get from this unit. It is usually recommended that you have your outside stairlift serviced every twelve months. You need to make sure that this work is carried out by a qualified engineer because otherwise you risk damage to the unit.
If your stairlift comes with waterproof coverings, it is important that you use these when the unit is not being used. This is also going to help ensure that you get a long-life out of this system.
The StayHome Promise to You
Be open seven days a week 9am – 9pm
Give you simple, open and honest advice
Not pester you with unwanted calls
Recommend the best stairlift for your needs
Give prices over the telephone so you know what to expect without a survey
Behave in a professional, caring and respectful manner
Make appointments at your convenience
Never put you under pressure to buy
Install your stairlift without mess or disruption
Provide a clear quotation